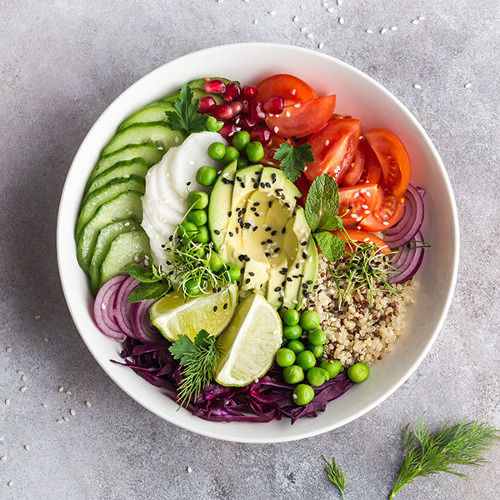 Your fork, the most powerful tool to transform your health and change the world.

-Dr. Mark Hyman
Inevitably, the way we fuel our bodies affects the way we feel—for better or for worse. When we're trying to live our best lives, nutrition plays a key role in our overall wellness.
But where to start? There's so much conflicting information surrounding how to eat a healthy, balanced diet—ask ten nutrition experts for their recommendations, and you'll get eleven answers. That's the sort of beautiful thing about nutrition; there's no one-size-fits-all answer. Every body is unique and bioindividual, meaning that there are millions of right answers out there … and your job is to find what works best for you.
Of course, there are basic building blocks of nutrition that all humans should generally follow—there's probably not a body out there that runs best on nacho cheese and diet soda. (Sorry!) At a cellular level, our bodies require certain micro- and macronutrients in order to sustain life, and then thrive. These nutrients are best derived from natural, whole foods. Our bodies did not evolve to absorb and digest chemical or artificial compounds—but they're perfectly suited to break down whole foods that come straight from the earth.
Kicking off a deep dive into a more nutritious lifestyle doesn't have to be overwhelming—a great place to begin eating better and feeling better is with a light detox. Many of us were raised on the Standard American Diet, which is high in fat, sugar, and salt and almost deficient in quality nutrients. By cleansing and detoxing your body with easy-to-digest natural foods—like unprocessed juices or smoothies—you'll reset your taste buds and digestive system, as well as eliminate any less-than-healthy compounds that could be lingering in your body. According to Dr. Mark Hyman, "We all have different needs for food, vitamins, rest, exercise, stress tolerance, or ability to handle toxins."
Beyond the basics, there are so many other ways we can utilize nutrition to feel like the best versions of ourselves. When you feel comfortable, energized, vibrant, and healthy, you're free to make better choices for yourself because you're not distracted by discomfort! Eating well and nourishing your body has a profound effect on your wellbeing.
In conjunction with holistic nutritionist Elissa Goodman, our guests will learn more about how what we eat truly affects our entire lives—and how our diet is a huge component in our well-being.